Billy Joel Trivia Questions
                                                                                                                                                                                                           mylifebillyjoel.com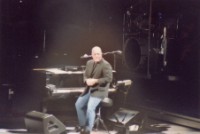 Levels of difficulty -

                                                                                                                                 One * Star, easy.
                                                                                                                                 Two **Star's, hard.
                                                                                                                                 Three ***Star's, harder. 
                                                                                                                                 Four ****Star's, difficult.
                                                                                                                                 Five *****Star's, very difficult.


1. What do the numbers 20, 1, 502 and 149 mean to BILLY JOEL? Hint: It's NOT his scrambled cell phone number. Lol! Guess again!
(Level of difficulty ***)
2. Driving onto BILLY JOEL's estate in the exclusive community of Centre Island, Long Island, New York, visitors and guests will see, not ONE, but TWO gigantic billboard size signs warning approaching drivers! Can you guess what the two signs warn drivers about? Hint: The signs consist of four words each, but it's NOT "Keep off the Grass", too obvious, think harder! (Level of difficulty *****)
3. What is it about the number THREE and BILLY JOEL? I'm not sure but, BILLY JOEL owns or has owned, THREE different estates on Long Island's North Shore! These THREE estates were in THREE different communities, are located within a THREE mile radius of each other, were purchased in THREE different decades, but were occupied separately by THREE different wives! What??? Well, now four! See Photo Album # 2! Also, BILLY JOEL was the FIRST musician to have performed at all THREE stadiums in the TRI- state area! He held concerts at Giants Stadium, Yankee Stadium and Shea Stadium! This is known locally as BILLY JOEL's Hat Trick! AGAIN, the number THREE And divide in half the number of Grammy Awards BILLY JOEL has achieved in his lifetime? What's the answer??? And lastly, BILLY JOEL has reached another number THREE phenomenon! Hint: It involved another Musical Superstar! Guess who, what and when. Oh, did I mention that BILLY JOEL has THREE daughters! (Level of difficulty ***)
4. Which original band member that was with BILLY JOEL for almost twenty years, and was instrumental in BILLY JOEL achieving his success, was found dead from an apparent self-inflicted gunshot wound? (Level of difficulty ****)
5. In the late 1960's, before BILLY JOEL was famous, he was in a band named the THE HASSLES. This band recorded for United Artists Records and produced two albums and was semi-successful. The drummer for this band was Jon Small. When THE HASSLES disbanded, Jon Small and BILLY JOEL formed a duo named ATTILA, which produced one album on *Epic Records (1970). Question? What did BILLY JOEL and Jon Small have in common, besides a musical relationship, that will certainly surprise you! Take a guess! (Level of difficulty ****)
* And Lady Gaga was NOT the first to wear meat clothes, BILLY JOEL was! See (1970) Attila album cover!
6. Contrary to popular belief, BILLY JOEL's song "Uptown Girl" was NOT written for Christie Brinkley! Actually, while on vacation in the Caribbean in the early 1980's, taking a break from touring and now single again, BILLY JOEL encountered THREE models who were staying at the same hotel as he. One night piddling on the hotel's piano in the bar, intrigued, the three models approched. Inspired by the encounter that night with the three models, BILLY JOEL wrote a song originally titled "Uptown Girls"! Soon after, BILLY JOEL began dating one of the models, and inspired, changed the name of the song to "Uptown Girl" for her! What was the name of the model who inspired the song change?
Hint: It was one of the models BILLY JOEL started dating before Christie Brinkley. (Level of difficulty ***)
7. Who is the top (number 1) best-selling solo artist of all time? Is it... Michael Jackson, Elvis Presley, BILLY JOEL, Garth Brooks or Elton John? (Level of difficulty ***)
> How many BILLY JOEL Trivia Questions do you think you answered correctly? Check and compare your answers on the Trivia Answers page of this website! On that page, I will also reveal the website(s) to Google to view still photos of and read about, BILLY JOEL's former "Glass House", known as the 'Cooper bluff estate'.  AND, see actual ©Photos of the "Glass House" (1980 Album cover) that are shown "exclusively" on this BILLY JOEL Photo Website in Photo Album 2!